10 Common IT Risks That All Small Businesses Should Be Aware Of
Get the Free eBook
This free eBook will enlighten you to small business IT risks and common IT pitfalls that you can avoid. It is imperative to stay on top of these IT issues before they become costly and detrimental to your small business.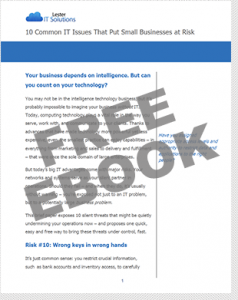 Some of the questions you should be asking yourself…
Are your data and applications password protected? 
Are the connections you use to access online services protected?
Do you use automated backup programs for data protection?
Are your data recovery and network restoration plans ready to work in an emergency?
Simply fill out the form and we will email you this free eBook.